Five Step Approach for Effective and Streamlined Delivery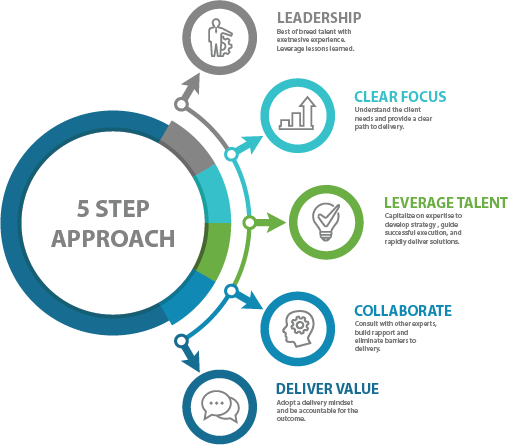 Leadership
Leading organizations to a more efficient and faster path to success. By providing best-of-breed expertise, sharing lessons learned and harnessing past successes, we can expedite project delivery, minimize risk and reduce overall operating costs.
Clear Focus
Providing organizations with a clear focus. By consolidating stakeholder laundry lists, reducing external influence, cutting out corporate noise, duplication and inefficiencies, we can drive better results and keep objectives within context.
Leverage Talent
Allowing organizations to leverage the right Talent when and if necessary. By providing recommendations on resourcing requirements for each project deliverable, we eliminate the risk of ramping up too soon, engaging unnecessary resources and keeping projects on time and on budget.

Collaborate
Enabling organizations to collaborate with the right combination of internal and external resources. By guiding the selection of the right combination of stakeholders as well as the engagement of the right vendors/partners to ensure a cohesive work environment, we can deliver with greater success, more often.
Deliver Value
Delivering value and effectiveness. By streamlining overall business operations, we are able to provide quality and cost-efficient solutions.